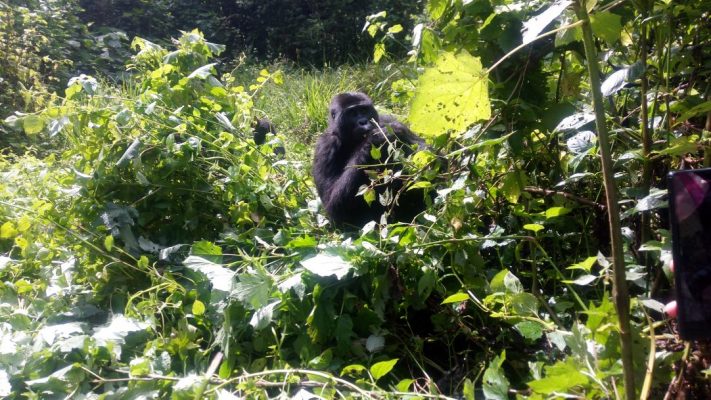 Overview
This is the most famous sector of all sectors in Bwindi impenetrable forest national park which is located in the northern part of the park. It is famous because it is more developed, with favorable terrain which is not strenuous compared to other sectors in Bwindi and exceptional region that almost all the travelers who call first inquire about it. The park is in the south western park of Uganda known for harboring most of Uganda's mountain gorillas.
Gorilla families
The sector gives out 32 gorilla permits on a daily basis for four habituated gorilla families namely; Habinyanja, Rushegura, Katwe and Mubare gorilla families with Mubare gorilla family which was the first habituated gorilla family in 1991 of Bwindi impenetrable national park. This was also the first sector to be opened in Bwindi impenetrable forest in 1993. The park can easily be accessed from different areas for example when you use queen Elizabeth national park where you will drive from Mweya peninsular via Ishasha sector and then to Buhoma sector which takes about 3 to 4 hour's drive. It can also be accessed from Kampala, Ishasha and Kabale which is just a 2 hours drive and using air transport into Kihihi from Entebbe airport.
Gorilla permits
The permits for this sector sell really quickly. Additionally, only 8 travelers above 15 years of age are eligible for trekking. In case you want to do gorilla trekking in this region, kindly contact Pamoja Tours and Travel company. We shall help you to book for your permit in advance. There are other activities which can be one in Buhoma sector after gorilla trekking and these include;
Game drives
The sector has a bigger advantage since you can pass through Queen Elizabeth national park and Ishasha. While there, you can go for game drives. Ishasha has a number of tree climbing lions and other wild animals.
Bird watching
There are a number of bird species in Bwindi impenetrable forest national park which you can watch after treks. In case you are a birder, you should carry your binoculars to catch sight of birds in air. Those far away, take your bird guide as you trek. Alternatively, you can organize a full day for bird watching since there are about 400 bird species to see in Bwindi forest.
Rest at Lake Bunyonyi
After trekking, being that it is an activity that requires a lot of energy, you need to rest in a better environment to chill and relax. Lake Bunyonyi is one of the fresh water lakes where you can catch up with boat cruises and several water sports like canoeing. Visit the beautiful islands on Lake Bunyonyi which make it one of the natural wonders of the world with 29 islands in total.
Nature walks
You can take the simple natural walks at your pace with a guide in the forest for safety reasons especially when it comes to routes. These natural walks give you a chance to catch sight of some of the birds, wild animals and different tree species that you never had a chance to see while on a trek since during these treks, guides usually follow specific routes.
Batwa cultural encounter
Experience the diverse and original forest life culture of the Batwa pygmies who lived in Bwindi impenetrable forest long before as their home. They will teach you how they make music out of their wooden music instruments, harvest wild honey, hunt and make wildfire using stones among others.
Volunteering activities
There are a number of volunteer opportunities due to the availability of a number of conservation projects in Buhoma sector like Conservation through Public Health (CTPH), schools and hospitals for the Batwa pygmies.
Local village visits
Tourists can take visits in the local villages and communal markets. While there, they can take part in day to day activities of the locals. For instance;
food preparation
brewing local beers
coffee picking
there is local entertainment like sons and dance of the Batwa and the Bakiga who live on the out skirts of Bwindi impenetrable forest.
You can engage in bike ride treks with local residents which reward visitors with yet exceptional experience.
Buhoma accommodation facilities
Buhoma has more choices of accommodation than other sectors in Bwindi national park. These fit all your choices and pockets like Bwindi volcano lodge, Buhoma lodge, silverback lodge, gorilla resort etc.
When can you go trekking in Buhoma sector?
You can visit Buhoma during any time of the year. However, the best time to visit is during the drier time of the year.  This is in the months of January, February, June, July, August and September. More to that, it is easier because the vegetation cover is low giving you a chance to see the gorillas and other wild animals. However, during this time of the year, there are a lot of tourists coming for trips which means that the trekking permits are on high demand.
However, with Pamoja Tours and Travel Company, your booking process will be easier once you trust us. We shall book for your permit, safari and accommodation. Also, we have a staff of credible personnel who have experience in each field. They can ably handle booking for a safari to transport and accommodation.