Comparison between gorillas' permit prices in Virunga national park and Volcanoes national park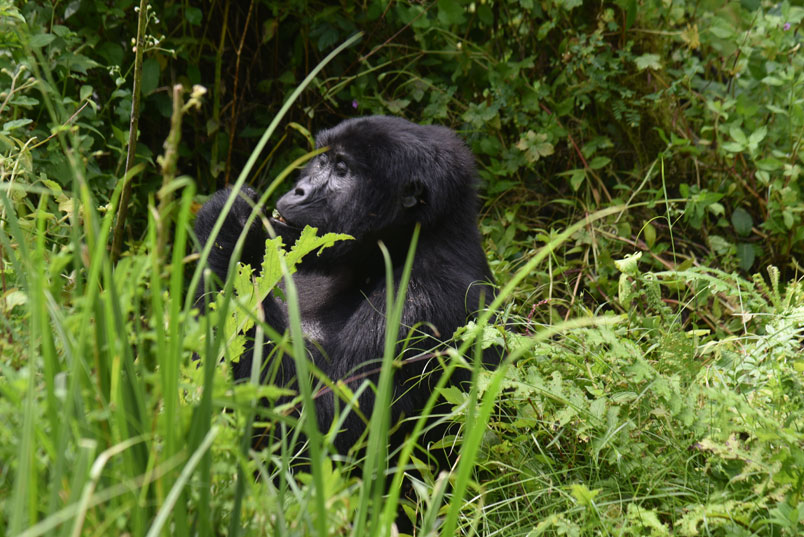 Overview
Gorilla trekking is enjoyable in only three countries; Democratic Republic of Congo, Uganda and Rwanda. The fact that it is the most attractive activity among the tourists visiting east Africa, there are a number of questions that everyone asks with one of them being; why is gorilla trekking in Rwanda expensive compared to DRC and Uganda?
Gorilla trekking
Gorilla trekking can be enjoyed in Democratic Republic of Congo and Rwanda's national parks however, trekking in volcanoes national park of Rwanda is very expensive compared to gorilla trekking in Virunga national park of Congo. Volcanoes national park is found in the north western part of Rwanda and therefore borders Virunga national park of Democratic republic of Congo. Virunga national park is located in the eastern part of democratic republic of Congo in the Albertine rift valley largely along Rwanda and Uganda's international borders.
There has been a number of arguments about the comparison between volcanoes national park of Rwanda prices with those of Virunga national park of DRC; these arguments explain why gorilla trekking in Rwanda is so expensive than in DRC however other arguments have been dismissed as baseless because the difference is because of each country's policies.
Access
Democratic Republic of Congo is trying to promote its tourism sector thereby lowering the permit prices and accommodation prices too however, Rwanda is trying to promote its self as a luxury destination explaining why its permits and accommodation are fairly expensive.
Volcanoes national park is very accessible compared to Virunga national park of Congo. The park is just a three hours' drive from Kigali international airport however, a tourist visiting Congo uses two routes, the Uganda – Congo route or the Rwanda – Congo route.
While using Rwanda – Congo route, from Kigali international airport, a tourist goes through Rwanda and then go to Congo through Gisenyi and to Goma town in Congo where you then go to Virunga national park.
Using Uganda – Congo route, on landing at Entebbe international airport, it takes less than an hour to Kampala using the new express high way. From Kampala to Kisoro which is Congo's bordering town of Uganda, it takes you 8 hours then to Congo. You can also use air from Uganda on a plane from Kajjansi airstrip to Bunagana in Congo, from Bunagana, the journey to Virunga takes 30 minutes' drive.
Gorillas in Rwanda are friendlier than those in Virunga national park which are very wild. This further makes them easier to track and see the gorillas in Rwanda other than Congo where the gorillas here hide in the impenetrable forests making it hard to track them.
GORILLA PERMIT COSTS
Volcanoes national park has 12 gorilla families that are available for trekking which implies that the park has 96 gorilla permits available each day whereas Virunga national park has 8 gorilla families which implies that there are 64 permits available for trekking each day. This makes trekking more flexible in volcanoes during the peak season of the year.
Rwanda's gorilla permits are very expensive where permit prices for trekking gorillas here cost US 1500$ for foreign non-residents, US 500$ for foreign residents and US 200$ for east African residents. Conversely, those of Congo during the months of December to March and June to October when the season is at its peak cost US 400$ for foreign tourists, US 200$ for east African residents and US 20$ for nationals. During the other months of the year, the permit costs US 200$ respectively.
AGE LIMIT
Every tourist must be 15 years and above to trek for gorillas in volcanoes national park of Rwanda. On the other hand, in Virunga national park, a tourist must be 18 years and above to take part in gorilla trekking. Virunga also limits the maximum age of trekkers which should be 85 years depending on the physical fitness of a trekker.
For the elderly and those who are not physically capable to go trekking, the African helicopter has made it possible. Moving using the sedan chair attracts a fee of US 400-500$. You should book that service in advance if you are incapable of trekking in Volcanoes national park.
BEST TIME TO GO TREKKING
Both the parks lie in the tropics therefore have tropical climatic conditions. This implies that they receive rainfall any time of the year hence are open for trekking throughout the year. However the months of mid-December, January, February, June, July, August and September are drier in the year which makes them the best time to go trekking. On the other hand, trekking in the other months of the year is less costly and less crowdy. The trekking permits are on discounts and so are the accommodation facilities in these parks.
BOOKING PROCESS.
You should book the gorilla permit in advance to secure a slot. With Pamoja tours and Travel Company, your booking process will be easier. The moment you contact us and provide us with the necessary details, we will check the validity of the permits. Afterwards, we will reserve them for seven days when you should pay for them. You will then send us your payment invoice for us to secure your permit.
When we secure the permit, we will then send you copies of receipts from Rwanda development board or Virunga national park authority. It is only when you have the permit that you will be able to go trekking in these parks.
WHAT TO PARK FOR THE TREK.
Trekking gorillas is the same in all the parks. Therefore, the items you park for trekking are the same as well. You need a number of items on your list;
hiking boots
long sleeved clothes
water bottle
rain jacket in case it rained
camera
insect repellant,
gardening gloves
hat to cover you from the sun
sun screen
torch
hiking boots