Luxury accommodation in Queen Elizabeth National Park
Overview
Queen Elizabeth national park is the oldest and second largest national park in Uganda.
It is located in the South western part of the country and is one of the most visited parks.
Kyambura Gorge Lodge;
This lodge is located on the edge of the Kyambura gorge (home of habituated chimpanzees) which sits outside of Queen Elizabeth national park. It has an impressive main area, high ceilings, cozy corners for reading and relaxing and stunning views all around. In addition, there are exciting activities as well such as chimpanzee trekking inside the Kyambura gorge, wildlife walks, visiting community projects and coffee plantations.
The gorge has beautiful rooms, well-kept paths through the gardens, bandas that are spacious and impressive, open plan bedrooms with day beds, a lounge area and private veranda overlooking the forest, huge en-suite bathrooms, indoor and outdoor shower and so on.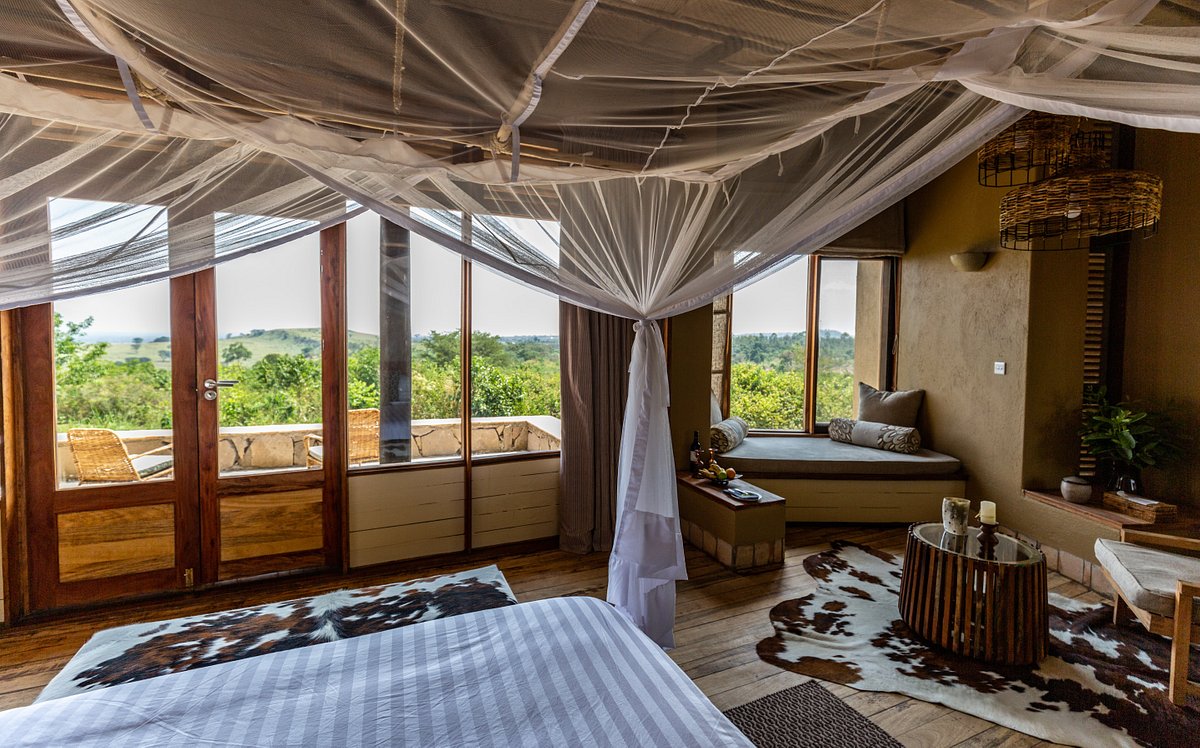 In addition, the service is amazing for instance you are led to and from your room and if you request for a morning wake up call, you are woken by a beautiful song sung by a member of the staff.
Some of the other facilities provided include; swimming pool, restaurant, well-stocked bar, Wi-Fi, a sitting lounge, laundry services.
Ishasha Wilderness camp
A Luxury accommodation in Queen Elizabeth National Park located in the Southern sector of Queen Elizabeth national park. This sector is famous for tree climbing lions which can be spotted in the branches of the large fig trees. We can also see elephant herds, buffaloes (which enjoy grazing on the banks), black-and-white colobus monkeys and velvet monkeys (that swing from the trees above) in this sector. One can see the elephants through the camp.
The camp has an authentic safari feel to it with canvased tents, hot bucket showers, intimate communal dining in the main mess area.
With regard to layout, the main area of the camp is under canvas and comprises of a lounge area (with large sofas, Africa coffee table, books and warm colors), a dining area and a tea/coffee section. The rooms are very cozy and are located off one side of the main area and spread out along a walk way, offering views on the Ntungwe River.
In addition, the rooms are made of canvas, they have large beds (double and twin). They also have en-suite bathrooms with flushing toilets and bucket showers as well as a veranda area outside with a table and chairs overlooking the river.
At this camp, game drives around the Ishasha sector are available. During these game drives, one can see the various animal and bird species.
Other services include; sundowners (dinner in the bush while watching the sunset), bush breakfasts and community tours/visits/wildlife walks.
Mweya Safari Lodge
Mweya safari lodge is one of the Luxury accommodation in Queen Elizabeth National Park located within the heart of the park in Mweya peninsular and has the best views of the Rwenzori Mountains, rift valley and Kazinga channel which joins Lake Edward and Lake George.
There are various facilities at this lodge such as; the presidential cottage, the Rwenzori family cottage, the Queen's cottage, suites, deluxe rooms, standard rooms, royal family cottage and luxury tents.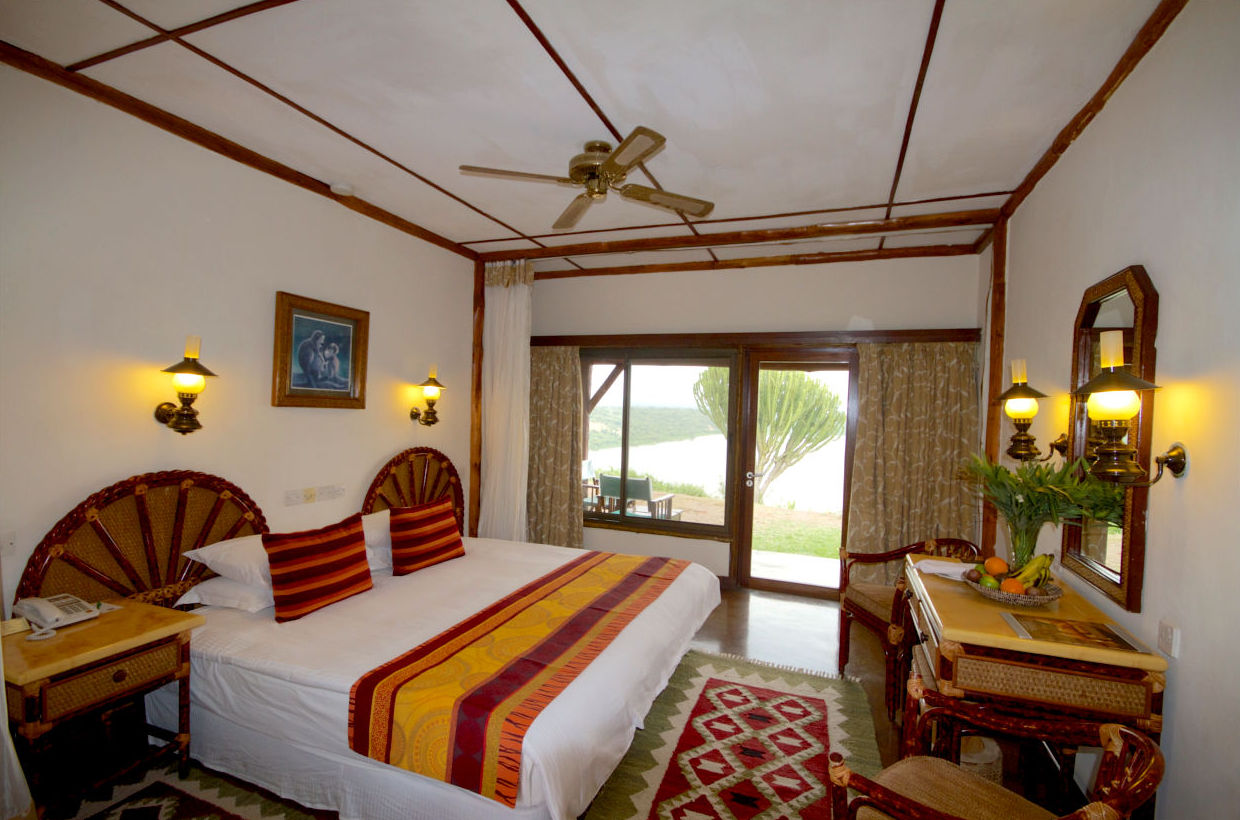 It also offers services and amenities such as a swimming pool, business centre, restaurant (and a cuisine with special barbecues), performances from traditional dancers, a gift shop, conference facilities, Tembo bar and Mweya Information Centre.
Katara Lodge
This lodge consists of 8 luxury thatch cottages with one being a family cottage.
Each cottage was designed using local materials which is portrayed by the wooden floors, grass thatched roofs, canvas which can be folded to get a better view of the beautiful environment, double beds, four poster star bed (with wheels), bathrooms and romantic roll tap baths for couples.
Other facilities at this lodge include; a swimming pool, a fully stocked bar, dining area, restaurant, laundry services and free WI-FI.
Jacana safari lodge
This gorgeous luxury lodge is a product of local rock, gum poles, wood and rope and rich textile decorations as well as organic furniture. It consists of 10 luxury chalets and a family cottage with 2 rooms. The lodge also has private terraces, en-suite bathrooms with running water and flushing toilets. In addition, it has a Virunga lounge with large sitting sofas centered around a huge fire place.
Other facilities include; swimming pool, sauna, Tembo bar, restaurant, free WI-FI and laundry services. The activities that you can carry out include bird watching, forest walk, game drive, chimpanzee trekking and nature walks.
Kasenyi Safari Camp
This camp is at the edge of Lake Bunyampaka in Kasenyi sector and has 8 tents (on platforms). These tents have;
a thatch canopy roof
en-suite bathrooms
king size beds
spacious living areas
private desks
elevated dining structure
offers great views of the animals.
These animals include buffaloes, elephants, hyenas, warthogs, lions, hippos among others. In addition, you can see them either during the day or at night while walking around the camp.
Other facilities include; restaurant, WI-FI and laundry services