Overview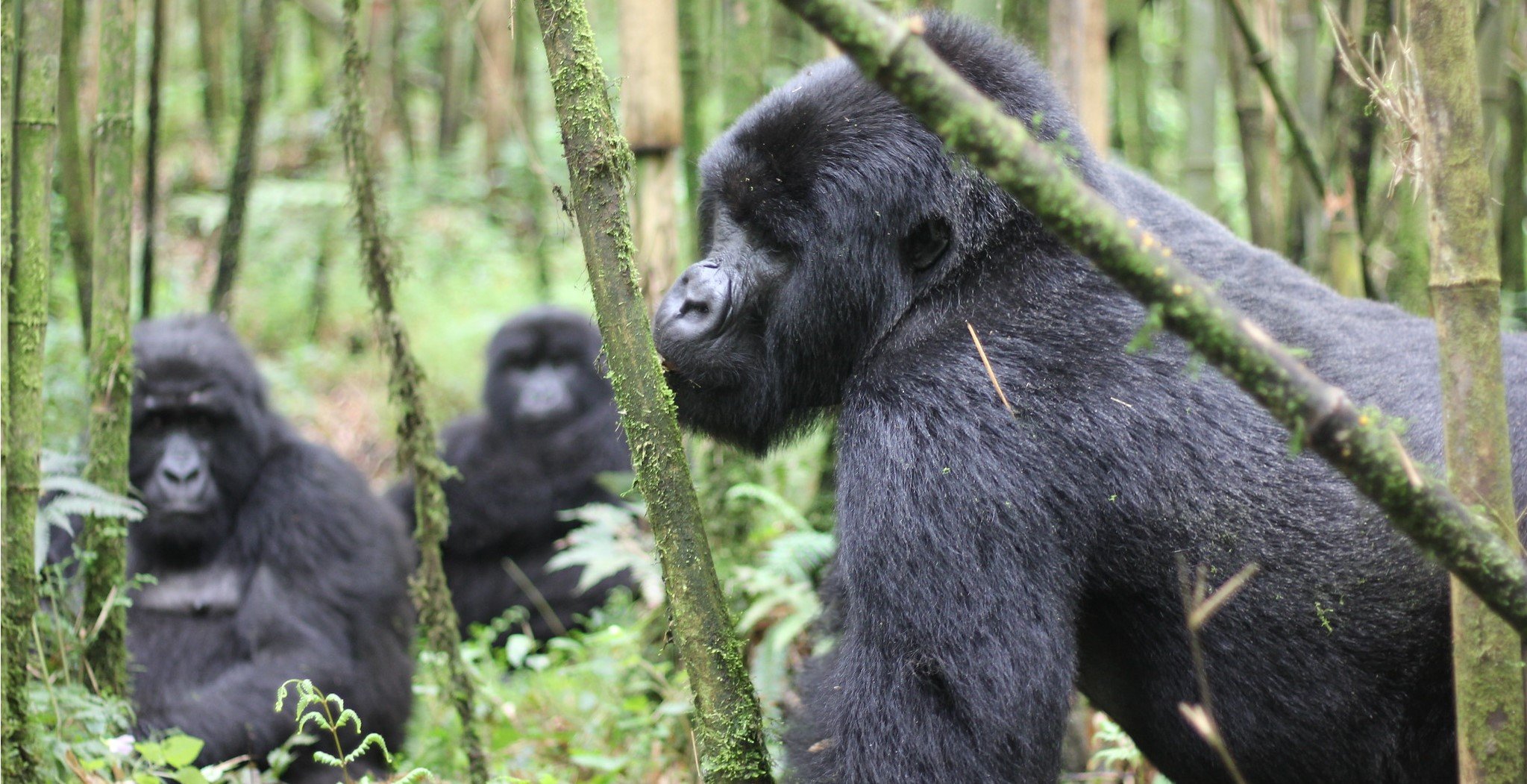 Nyakagezi Gorilla Family; First of all, we find this family in Ntebeko, Mgahinga National Park. Additionally, the family consists of 9 individuals with their leader being a silverback.
This gorilla group lives in the renowned slopes of the three Virunga Volcanoes that include the Muhabura, Sabyinyo and Gahinga. Nyakagezi is a place in Mgahinga Gorilla National Park where there is a lot of food that attracts the gorillas. Nyakagezi family is one of the easiest to track given the fact that it prefers a narrow home range for feeding, nesting, relaxing and recreation.
Composition of the family
The group is popularly known for gorilla trekking in Mgahinga Gorilla National Park. It consists of nine (9) mountain gorillas. They include; Baby Rukundo, Nvuyekure, Nshuti, Mutagamba, Bugingo, Mark and Mathew. The Nyakagezi gorilla group was once led by Silverback "Bugingo". However, Mark is the current family head.
Bugingo silverback is around 53 years and is still thriving in the gorilla family. This is some thing uncommonly seen in gorilla life. In normal occasions, any silverback gorilla that happens to be overthrown from the main group would resort to a lonely life or totally abandon the family.
Tracking the Nyakagezi Family
The Nyakagezi gorilla group was famous for their migratory behavior across the Democratic Republic of Congo and Rwanda. However, this gorilla group was later able to settle in Mgahinga Gorilla National Park in Uganda and is now available for trekking.
Although this group is mobile and crosses over to Rwanda and DRC, it is the easiest to track in Uganda because they are found in areas of lower altitude and prefer a small home range for nesting, relaxing and feeding (due to abundance of food).
The Nyakagezi group is one of the most interesting gorilla groups to visit in Uganda because of it being the only gorilla group in Mgahinga. This is due to their mobile behavior and the fact that the silverbacks of the family (especially the oldest silverback "Bugingo" and the reigning silverback) live together in harmony.
Gorilla trekking permits
The success rate to see these great apes stands at over 95% chances. Also, it is now easier to track this gorilla group because they have a permanent settlement unlike initially where they were always on the move. More and more tourists are now visiting the Park to track this interesting group.
Due to their mobile and unpredictable behavior, one has to book gorilla permits for Nyakagezi group at the Uganda Wildlife Authority Park headquarters in Ntebeko. Additionally, it is always important to first confirm within 24 hours to ascertain whether they are within the Park or have crossed the border. Because it is the only group in the park, UWA sells only 8 gorilla permits for this park per day.
Golden monkey tracking
Besides tracking the Nyakagezi group, tourists can engage in Golden Monkey tracking because this is the only Park in Uganda where Silver meets Gold. Visit the interesting Batwa trail (that takes you through the life of the "People of the Forest" who were hunter-gatherers). You can also go for birding and mountain hiking to Mt Sabyinyo, Mt Muhavura and Mgahinga.
Access to Mgahinga 
If you would like to track the mountain gorillas in this group, you can choose to travel on road or by air.
You can take scheduled flights from Entebbe International Airport or Kajjansi Airstrip and then land in Kisoro Airstrip. Thereafter, you can transfer to the park on road from their respective lodge.
By road, you can take the Kampala-Mbarara-Kabale-Kisoro route where you can easily connect to park.
Accommodation
Some of the comfortable lodging facilities around the park include Mount Gahinga Lodge and Mutanda Lake Resort.
There are various accommodation facilities in the categories of budget, mid-range and budget. These are available to serve customers basing on their budget and preferences.
At Pamoja Tours and Travel, we offer amazing gorilla trekking safaris such as the following;
Conclusion
If you would like to track the Nyakagezi gorilla family, feel free to contact us. We will ensure that you have the best gorilla trekking experience ever!