1.Tarangire treetops
Tarangire treetops is the most well-known luxury facility in the whole of Tarangire National Park and it is located within a private reserve that borders this national park as well as the neighboring maasai stepped. This facility offers some of the largest safari rooms you will find in the country constructed around giant baobab trees that offer views of Lake Manyara, the rift valley wall as well as Mount Kilimanjaro on a clear day.
It has 20 private tree houses each with a very spacious balcony fitted with modern décor made using natural materials, and with en-suite facilities that include a double shower with hot and cold water. There are additional amenities such as a well-stocked bar, a clean swimming pool and fine restaurant. Some of the activities you made enjoy from here include Maasai culture Village tours, nature walks and night game drives
2.Nimali Tarangire
This permanent tented Lodge is located along the northern border of the Tarangire National Park within a private reserve and offers holidaymakers a non-restricted safari experience that combines comfort and character in plenty.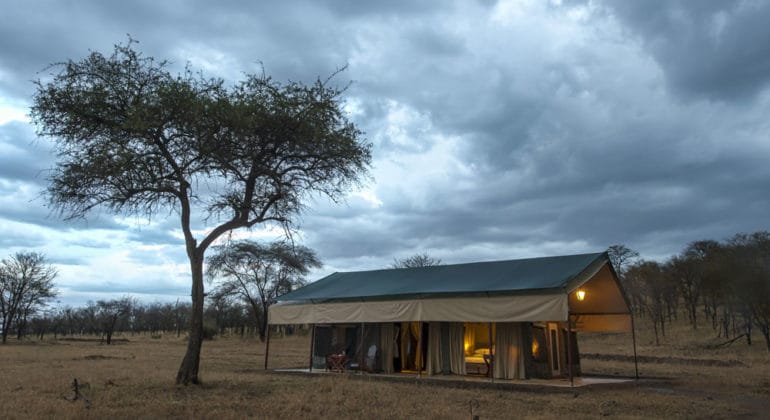 Some of the various activities you can enjoy while staying here include walking safaris as well as night game drives that aren't allowed in other national parks in northern Tanzania. It has 6 beautiful tented bedrooms that have been lavishly furnished each with a large private deck from where guests can enjoy sweeping views of the surrounding area.
3.Sanctuary Swala Camp
Sanctuary Swala camp is situated in an isolated Tarangire National Park, part which is among the most thrilling and the least visited national parks in Tanzania.
In the center of the Maasai country in an isolated corner of Tarangire, in complete isolation amongst the huge acacia trees and looking over beyond the leveled savannah, Swala camp provides a really unique safari experience. The pretty landscape is packed with very old baobab trees, numerous elephants as well as a great profusion of birds. Constructed to top eco-friendly standards, the camp specifically has a particularly low-carbon footprint.
Why Sanctuary Swala Camp
The camp is found in an exclusive path of Tarangire National Park
Guest reviews on Trip advisor voted this Sanctuary Swala as the number one out of   the total 18 lodges plus camps found inside the Tarangire National Park
Several of game activities such as game drives in the morning as well as evening, walking adventures plus game drives at night
There is an infinity pool looking over a water hole that is frequented by animals
Picnics, Sundowners in addition to bush dinners
A chance to check out Sanctuary Retreats Philanthropy Projects such as Mwika beekeeping project
The library, main dining area plus deck are elevated on stilts surrounding an ancient baobab tree, and the infinity swimming pool looks over the waterhole.
Contemporary African
The raised main area is lifted on high stilts offering sweeping view of the large Tarangire grasslands in front of this camp. The well-kept infinity pool looks over an adjacent waterhole normally visited by some elephants along with some large cats that are usually seen. The tranquil pool area also presents the best place to enjoy a cocktail drink and loosen up at the end of a game drive inside the park. Sanctuary Swala was not so long ago refurbished to the highest eco-friendly standards with a mostly low carbon trail.
All the 12 canvas pavilions is tainted by high acacia trees and all offer breathtaking views the adjacent water hole. They're unashamedly lavish and skillfully furnished yet still very close to nature to allow a thrilling night beneath canvas. Each of the tents has a large open arrangement with snug king or even twin beds, lavish sofas plus campaign chairs as well as features an en-suite bathroom having an inside and outside shower for that added touch of luxury. Drink cocktails or delight in tasty dinners right on your private veranda and view the waterhole that normally attracts bull elephants , lions and leopards as your personal attendant serves all your needs.
Meals offered at Sanctuary Swala Camp
All the tasty meals available here at Sanctuary Swala are available in the main dining patio. Breakfast varies between a full English and a continental breakfast. You can enjoy these prior to your game viewing adventure in the morning. Lunch may be had back at the camp; the menu could include your preferred pizza prepared in our unique pizza oven or else you may take a  picnic basket  arranged for those who wish to have full day game drives. We have several much-loved spots to venture to for a peaceful lunch within the bush or for exclusive sundowners – as you toast to the end of another amazing day on the African continent.
4.Maweninga Camp
Mawe Ninga Tented Camp is found in the northwestern part of Tarangire National Park and is constructed on top of a huge "kopje" (granite rocks) you will find awesome vistas over Lake Burungi and also, off to the north, is Lake Manyara within the Rift Valley. On a really clear day, you can view the peak of Mountain Kilimanjaro from the higher point, high among the numerous rocks of this genuine bush camp.
All 13 tents are on the kopje, providing remarkable views of the National Park, lakes and even the distant horizon, the slopes of these very old volcanoes in the Ngorongoro Highlands. Normally Elephants come and feed within this area of the tents. The entire camp features a distinctive "bush experience," far off, with little impact but secure.
Each of the tents is in the same way full of decorations and furnishings. However, it maintains a particular originality, with a patio, bedroom plus a dressing room niche having an inside bathroom, shower, flush toilet as well as a basin with 24 hour water and electricity supply.
This restaurant is a stylish circular open structure having a wooden floor as well as a makuti / thatched roof, with capacity of as many as 30 guests. Their Mess is on a huge flat rock and likewise features an exclusive point of view of Maweninga Camp.
Beyond the amazingly located restaurant front, to the right-side over the huge rocks, there is a  fireplace a perfect place to enjoy the beautiful sunset over the great Rift Valley as well as the lakes plus mountains – all followed by an unforgettable evening as you loosen beneath the stars, in the company of our Maasai guide. There are Deck chairs around a fire pit plus bar service available all night.
Location
It lies West of Tarangire National Park. Mawe Ninga Tented Camp rests on a ridge that looks over Lake Burungi a soda lake, and the distant Lake Manyara faraway in the background. The camp is well located to explore the central as well as southern isolated remote areas of the park.
This lodge is pretty modest, offering 12 canvas tents on elevated wooden decks. Each of these has a bedroom plus a spacious bathroom room having a dressing area. The quite simple rooms have log beds, a tiny canvas shower, a coat stand, chemical toilet as well as lamps.
Mawe Ninga focuses on offering a true tiny lodge experience offering mid-range prices. It is under the resident Maasai and it is somewhat cheap. On the other hand, it is a bit basic therefore ideal for those on a very low budget.
Activities offered at Mawe Ninga Tented Camp
.Thrilling guided Game Drives
.Exciting Walking Safaris
.Special Bush meals
5.Boundary Hill Lodge
Boundary Hill Lodge is a brand-new lodge situated above the wide savannah, positioned among the trees plus rock outcrops around the fringe of Tarangire National Park. It incorporates eight large, independently designed rooms that offer convenience and delicate luxury. Every room features en-suite facilities, large balconies offering spectacular views.
Boundary Hill Lodge will give you an exclusive African experience as well as a chance to enjoy the savannah in an exceedingly unique way.
This lodge lies along the main migration route. This is where the animals go as they look for fresher pastures. At the dining as well as bar areas, visitors can observe the Silale as well as Gosuwa swamps, in which elephants plus buffalo graze within the  acacia trees and baobab. It is a product of natural materials, bricks, local stone as well as wood.
The lodge is located on the eastern part just outside the park boundaries. The best time to visit here is from June up to October. The intimate yet extremely tranquil lodge features a special character and has breathtaking views of the eastern part of the park.
The Rooms
Each of the rooms sits in a rock up on a hill and they have a good distance from each other to offer the utmost privacy to the guests. Each of them offers an almost 180 view of the surrounding terrain. You can find the open bathrooms downstairs, although a couple of rooms have an outside bath tub. Some of the rooms are large enough to hold additional beds and accommodate as many as four people.
Food and Wine
Boundary Hill Lodge offers very delicious meals delicately prepared by their experienced chef and served in their dining area. Their menu keeps changing to ensure that the guests enjoy the different delicious dishes that the chefs prepare here. They offer breakfast, lunch and dinner.
The dining plus bar areas are suitable for making best use of present features. It is also for capitalizing on the encompassing views. The Natural terraces happen to have soft enhancement to provide intimate areas where you can relax as well as enjoy the views plus sounds of the stunning savannah below. The scent of freshly baked bread coming from their outside oven, along with fish and meat plus vegetables enticing on the barbecue entice your senses and provide a mild contrast and highlight to the day's activities.
Facilities available at Boundary Hill Lodge include:
A swimming pool
Air conditioning and fans
A Safe
Telephone
Internet
Additional activities include:
Walking services offered at an extra cost as well as game drives conducted at night
Within this special area that is eco sensitive, each step is in place for little impact. All roofs are in place to collect rainwater. The storage for the water is in cisterns. We don't anticipate it will be important to take water from the surrounding environment. The Solar panels plus wind generators will supply all power. There isn't any noisy petrol or even diesel generator to deter from or cover up the sounds of this African bush.
6.Chem Chem Lodge
Chem Chem Safari Lodge is found on a 4,000ha wildlife conservation area found between Lake Manyara and Tarangire National Parks within the northern part of Tanzania. It features 8 elegant tenet-styled private suites that bring to mind a sensation of a contemporary vintage safari lodge.
The main communal house at the Lodge features a full service restaurant that serves very delicious dishes, a lounge bar offering a wide range of drinks, a library having various books about the wildlife in this country and an outdoor fire place to warm up in the cold evenings.
You may even choose to enjoy your evening on the viewing deck that offers spectacular views over the beautiful Lake Manyara. There is an outdoor swimming pool as well where you can take an afternoon swim to cool off. In addition, the exceptional Chem Chem Amani Spa presents a brand new meaning to total relaxation.
Lodge Facilities and Services:
The permanent building of this Lodge is the main house. It reflects the appearance of a landing flamingo having two open large wings. One of the wings houses the dining area plus the outdoor fire place. Conversely, the second wing houses the bar, library, lounge as well as the fire lounge.
It is a very light and open structure to be as close to nature as possible.
Its main house comprises of a:
Full service restaurant offering outstandingly delicious dishes
Lounge, bar as well as an outside fire place
A well-stocked library
Boutique
Free of charge WIFI
Very clean swimming pool and well managed spa
Chem Chem Safari Lodge's outside swimming pool and private palm- oasis you find our spa cottage as well our outdoor
Suite at Chem Chem Safari Lodge
Each of the tented suites is located on a private palm-island that allowed a private spectacular view of the lake. Each suite is 100 sq. meters, and it is a built with lava-stones, canvas as well as wood. This is among the very few places in Africa  that will offer you an opportunity to spend a night in the African wilderness under canvas. The tents have a minimum distance of 80m between them to guarantee total privacy.
Every suite comprises of a:
Reading corner
Dressing room
In-room safe
Luxury bathroom with an outside and inside shower
Terrace
Dressing gown plus slippers
Verandah with green daybed encircled by trees
Signature toiletries
Spectacular views right from your Bedroom
Yoga mats
Inter-come Telephone
In-room camp bed offered for one child
Hair-dryer available when the generator is on from 6.30am to 08:00am, and then from 6:30pm to 10:00pm
Laundry services for casual clothes, however no dry cleaning services
Family suite 
This is a single suite according to its setup. However, it has an additional 50sq meters area with an indoor bathroom. Additionally, there is a dressing area, rocking chair, two single beds, small desk. Also, it can accommodate as many as 4 children.