Overview
Budget accommodation in Mount Elgon National Park: To begin with, at 4,000km²  Mt. Elgon has the largest volcanic base in the world. Located on the Uganda-Kenya border it is also the oldest and largest solitary, volcanic mountain in East Africa. Its vast form, 80km in diameter, rises more than 3,000m above the surrounding plains. The mountain's cool heights offer respite from the hot plains below, with the higher altitudes providing a refuge for flora and fauna.
Mount Elgon National Park is home to over 300 species of birds, including the endangered Lammergeyer.  The higher slopes are protected by national parks in Uganda and Kenya, creating an extensive trans-boundary conservation area which has been declared a UNESCO Man & Biosphere Reserve.
While on a safari to the national park, there are several budget accommodation facilities that you can access, for instance;
Crow's Nest Rest Camp 
Crow's nest campsite is one of the budget camp situated at an elevation of 1770m along the slopes of Mount Elgon. Additionally, it offers comfortable accommodation to all travelers that transfer to Eastern Uganda to spend their holiday vacation.
The campsite has many different facilities with cabins, cottages where the guests sleep/ rest after a long day of work/ moving around. The campsite is a very appropriate place for those who want to take part in rock climbing, village walks, Sipi falls hike, Mountain trekking, cultural tour to the Sabiny and the Bagisu and coffee plantation tour.
While on this campsite you will need to carry items such as walking shoes, insect repellant, hat and sun cream, waterproof jackets (climate is unpredictable). You can buy drinks and snacks from the campsite.
Rose's Last Chance
Roses Last Chance is a comfortable & affordable safari accommodation at Mountain Elgon National Park. It is located at 1250m (above sea level) and offers comfortable budget accommodation to all travelers that visit Uganda while on holiday.
The accommodation facilities include; Severn single and double bedrooms, a dormitory that accommodates about 20 people and self-camping. Meanwhile, facilities such as camping ground with flush toilets & showers, Hot water are available on prior request. Additionally, camping gear are available for hire.
Other facilities/services at this hotel include; On-site Restaurant, Fully stocked Bar, Craft shop and Local traditional performance.
Fredson's homestay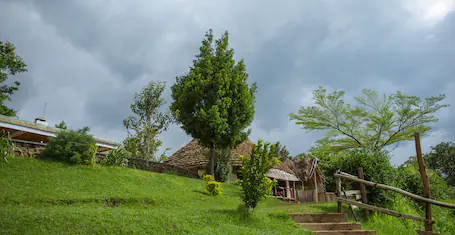 Fredson's Homestay is in Namisuni at 123 Sipi Street and it is the best place to stay. More to that, this facility is among the most elegant homestays in Eastern Uganda in a spectacular setting, with 8 guest rooms that have a traditional style and are simple but clean.  Also a good option for families with all services you need like preparing your meals in the communal kitchen, housekeeping is provided on request, bathrooms with showers and electrical kettles.
Other facilities featured include dry cleaning, a 24-hour front desk, and luggage storage. While at Fredson's homestay you can participate in different activities. For instance;
foothill on Mountain Elgon
hiking Sipi falls
visit coffee plantations and surrounding areas.
This is among Uganda's most sought-after homestay, so to avoid disappointment make your bookings as early as possible.
Wimpey hotel
Wimpey hotel is a budget accommodation in Mount Elgon National Park that consists of over 29 rooms and it is a new hotel on Cathedral road. Furthermore, the hotel has smart, clean rooms with rolling fans and mosquito nets.
The facility offers basic meals in the restaurant. Additionally, you can get roasted meat in an open space and the bar count yard.
Other accommodation facilities where you can stay while on Mount Elgon national park tour include; Suam Guest House, Kapkwata Guesthouse, Forest Exploration Center Bandas and campsite in Kapkwai. Also, it is better to make bookings for climbing expeditions and accommodations in advance for a comfortable experience.