Overview
Mid-range accommodation for Mountain Elgon National Park: To begin with, at 4,000km²  Mt. Elgon has the largest volcanic base in the world. Located on the Uganda-Kenya border it is also the oldest and largest solitary, volcanic mountain in East Africa. Its vast form, 80km in diameter, rises more than 3,000m above the surrounding plains. The mountain's cool heights offer respite from the hot plains below, with the higher altitudes providing a refuge for flora and fauna.
Mount Elgon National Park is home to over 300 species of birds, including the endangered Lammergeyer.  The higher slopes are protected by national parks in Uganda and Kenya, creating an extensive trans-boundary conservation area which has been declared a UNESCO Man & Biosphere Reserve.
While on a safari to the national park, there are several mid-range accommodation facilities that you can access, for instance;
Noah's Ark Hotel
This hotel provides mid-range accommodation facilities to tourists visiting Mt Elgon National Park. The hotel is lies in Kapchorwa along the slopes of Mountain Elgon
The hotel is popular for serving Bugishu Arabic coffee with a sweet scent. Both local and internal foods are available on a lunch and dinner basis. The hotel also has camping tents (for rent) for travelers who want to camp outside the hotel rooms. Activities such as hiking, biking, racing, and climbing Mt. Elgon are available here.
The accommodation facilities include;
Single Bedroom -Television, Bed, Dstv and Bathroom
Twin Bedroom-Bathroom, 2 beds, Dstv.
The hotel has three different divisions and these can accommodate more than 100 clients.
Kayegi Hotel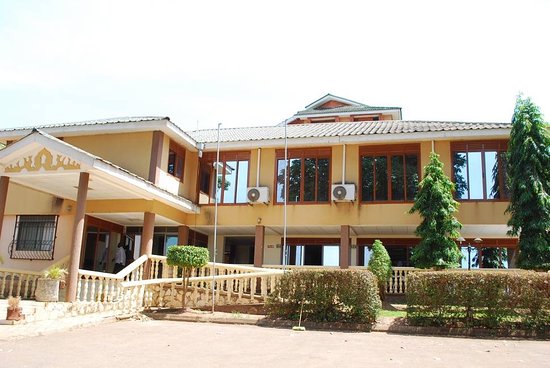 A Mid-range accommodation for Mount Elgon National Park which offers mid-range accommodation and you will find it at plot 45B along Masaba road (about 1km from Post office building). Though the prices of the hotel are moderate, the quality of the hotel rooms and services provided is superb.
The hotel is a famous place for organizing meetings, conferences, retreats, and workshops for both government and Non-Governmental stakeholders. The major services available are 25 well furnished self-contained rooms, bar and restaurant, serene hotel garden, conference halls, free wireless internet, and large parking space among others.
Lacam lodge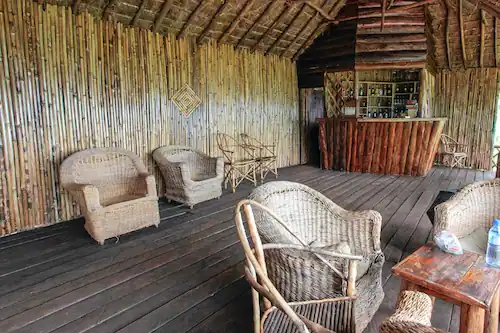 Lacam Lodge is a mid-range accommodation that sits along the slopes of striking Mountain Elgon (Eastern Uganda). The lodge offers an astonishing stay for all, around the Sabiny people who are welcoming and hospitable. There is also a cliff edge where you will have exceptional views of the majestic Sipi Falls.
The accommodation facilities includes; wooden beds made of ecology materials such as timber, grass-thatched roofs with; two double beds in each, vast decks and En suite showers and toilets, three non-self-contained Bandas with numerous shared facilities that are less costly as compared to self-contained ones.
Further Lacam lodge provides opportunities for self-camping and includes an Onsite restaurant and fully stocked bar.