Twin lakes safari lodge sits on the edge of an escarpment just adjacent to the Queen Elizabeth National Park in western Uganda. Its unique and strategic position makes it one of the best mid-range accommodation to stay in while in Queen Elizabeth national park because of the spectacular views being displayed by nature as you enjoy them at the lodge. The lodge is located in Kichwamba, Rubirizi district with views of the twin crater lakes where it gets its name. The lodge is lying on a hill offering guests quite beautiful sceneries of the park, and during the afternoon hours, usually guests love staying in the pool as they enjoy the beauty of this place.
Climate/vegetation
The lodge is just a whisper to queen Elizabeth national park, and it is also enclosed by a savannah vegetation cover that gives you a clear view of the entire surrounding
 Accommodation
The lodge contains 9 spacious and well-dressed cottages that also include family cottages. All the cottages are have a feel of the contemporary African cultural setting with a perfect blend of designs that are comfortable to call a home away from home. The cottages are self-contained with elegant bathrooms and flush toilets plus a hot shower with spacious bath tabs. The entire facility has a capacity of hosting 22 guests in its nine cottages, in a night. The accommodation rates range from 200$ per person per night upwards and can go high during peak seasons.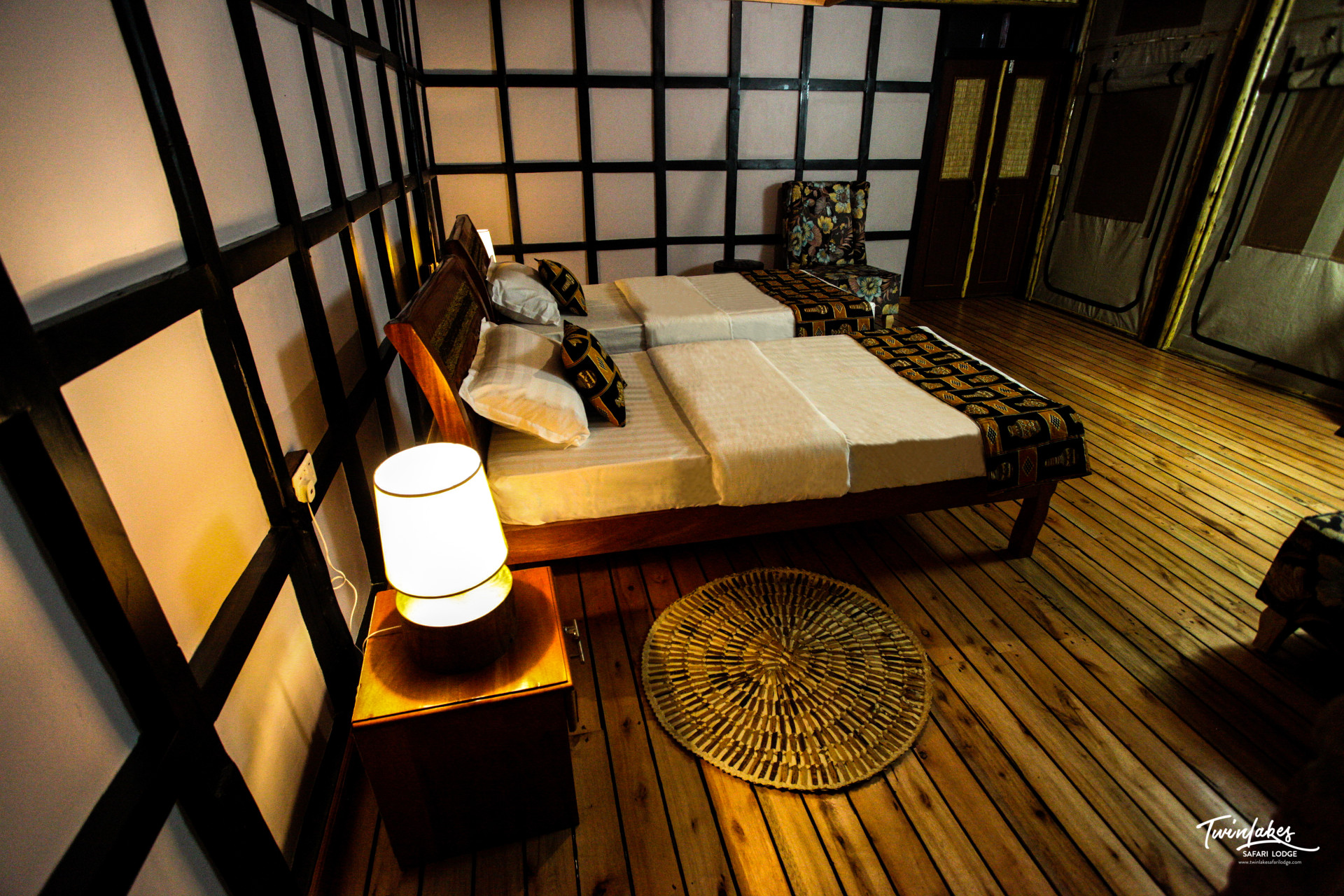 Each cottage has a private shaded veranda/ balconies with spectacular views of Queen Elizabeth National Park, Kazinga Channel, Lakes George and Edward, and the Rwenzori Mountain Ranges.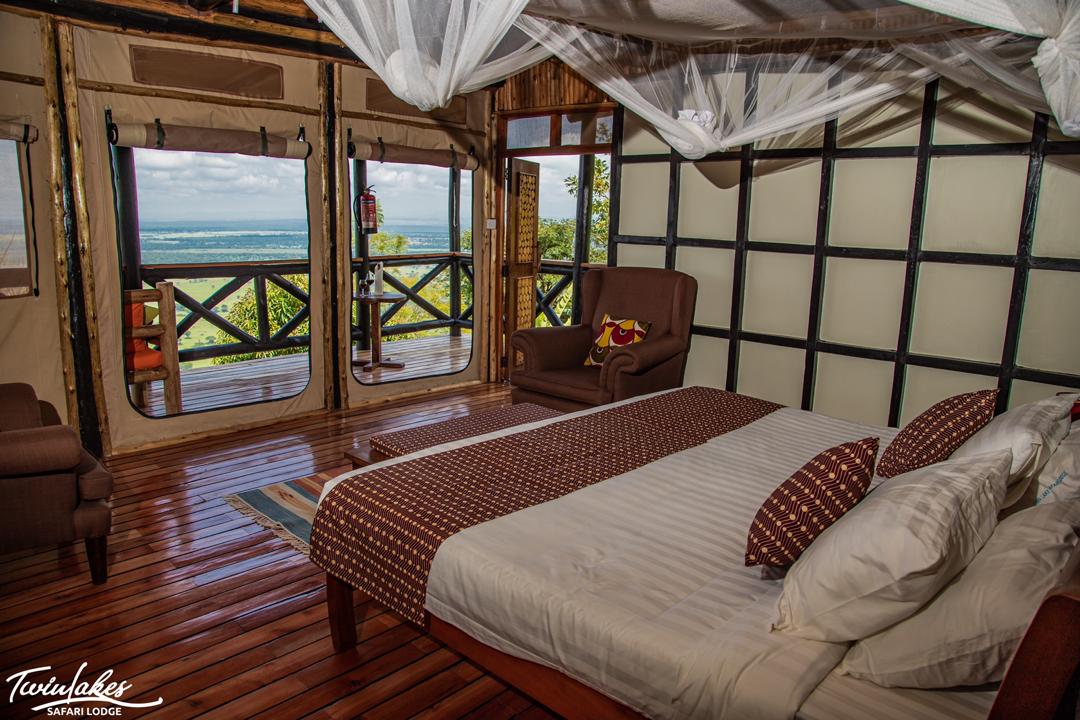 Types of accommodation offered
Single room beds are self-contained
Double and twin room beds
Standard rooms
Superior rooms
Two luxurious honeymoon suites and
Family room (one double room self-contained and two single rooms)
Extra beds on request at a fee
Services offered at the facility
Wi-Fi available
Room service (laundry, housekeeping, etc.)
In dining with Al -a-carte menu
Complimentary Mineral water in each room
Alcoholic and non-alcoholic bar service
Hot and cold running water
Electricity
Binoculars available on request from reception
Large safe for valuables at reception on request
Security
 Restaurant
The lodge has a uniquely designed restaurant to give a perfect environment as you enjoy your meals, the lodge offers both local and international cuisines (ala carte) that are mouthwatering to the guests.
The lodge also has a mini Bar that has wines and spirits that are perfect to your relaxation.
Activities to do
While at the lodge, you can do a number of activities like swimming at the pool, photography, nature walks among others, to spice up your day with an adventure. Since the lodge is just a next to the park, you can also enter the park and get to do a number of activities that are not within the lodge premises. You get to have the game drives within queen Elizabeth national park, boat cruise along the Kazinga channel, birding tours, nature walks, lion and leopard tracking in Kasenyi planes, community visits, Traditional Dance, and plantation visits among others. Also nearby is the famous Kyambura river gorge, which is home to the habituated chimpanzees.
 How to reach or access the lodge
You can access the lodge by both land and air.
By land, drive from Kampala for about 6 hours with a road distance of about 370km via Masaka-Mbarara highway. Also, you can drive via fort portal – Kasese route, to reach the lodge in Kichwamba.
By air, you can take a flight from Entebbe international airport or Kajansi airstrip to Kasese airstrip, and then drive to the lodge in Kichwamba.
Conclusion,
Twin lakes safari lodge offers you a wonderful stay while having a visit to Queen Elizabeth national park.
If you have any other plans of traveling to any East African country, for activities like mountain hiking, wildlife and game viewing, wildebeest migration viewing, cultural experience Gorilla tracking, lion and also leopard tracking, chimpanzee tracking, golden monkey tracking, volcanic exploration, heritage sites visit plus your bucket list, consider https://africasafaritravellers.com/
Also, see itineraries of where you can sleep at this beautiful lodge:
8 Days Uganda safari to Bwindi, Queen Elizabeth, Kibale and Murchison Falls