Democratic Republic of Congo mountain gorilla safari starting from Kigali. For those interested in gorilla trekking, your journey starts from Rwanda or Uganda to democratic republic of Congo.
Democratic Republic of Congo mountain gorilla safari starting from Kigali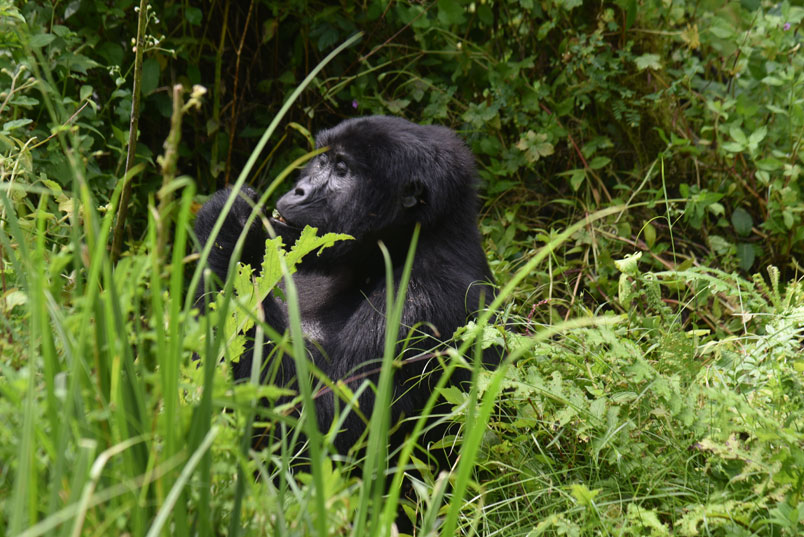 Overview
Virunga national park is one of the most diverse tropical rain forest. It was nicknamed as African amazon. Additionally, it is Africa's oldest forest famously known for gorilla trekking.
For those who have interest in gorilla trekking, your journey is either going to start from Rwanda or Uganda. DRC is one of the only three countries with the world's remaining endangered mountain gorilla species besides Rwanda and Uganda. Gorilla trekking in Congo is done in Virunga national park, a neighbor to Volcanoes national park of Rwanda.
Pamoja tours and travel company has mastered an art in organizing fantastic gorilla trekking safaris for all our customers. We organize all gorilla safaris from budget to luxury gorilla safaris from Rwanda to DRC as per your request. Our staff is well trained with both information and location knowledge in all East African countries.
Besides, we have a fleet of safari customized vehicles that are the best in transporting all our clients from the moment to arrive at the airport to dot. Organizing such trips has been made easier which us when we help you plan and book for every necessity for your gorilla trekking which and accommodation facility suggestion and advice.
How much does it cost to see mountain gorillas in DRC?
Trekking as a daily activity needs prior planning and preparation, this can be made easier when you book your gorilla trekking safari with Pamoja tours and travel company. As a company, we provide all inclusive tour packages for all our clients, which packages depend on your budget and the activities to take place. You can opt to do any as we plan and organize your trip according to your own interest. Such inclusive packages include transportation, guide services, accommodation, meals, budget options and in some cases gorilla permits. Contact us for more information about packages of gorilla trekking for democratic republic of Congo, Rwanda and Uganda.
Permit costs for gorilla trekking in DRC
You can only go trekking for these magnificent species when you have a valid gorilla trekking permit. This needs prior booking especially during the peak seasons when a lot of tourists flock the national parks for trekking.
Interestingly, trekking permits in DRC are a lot cheaper than any other gorilla national park in east Africa. This is because Congo is trying to promote its tourism sector for now due to effects of the past instability.
Once you contact us with your confirmed dates of your safari, we shall check for availability of gorilla permits with Virunga national park Congo headquarters.
Once the permits are available, we will book for your permits and send you an invoice for your permit payments.
When you finish paying for your permit, we will send you scanned copies of your gorilla trekking permits and with these, you are set for trekking.
Gorilla trekking permits for each tourist in DRC cost US400$ in the peak seasons which is in the months of January, February, June, July, august and September. It's during these months that the park receives a number of visitors for the drier seasons make it easy for gorilla trekking to take place.
In the other months of the year; march, April, may, October, November and early December , the gorilla permits in DRC cost US200$ per person and this offer runs from 15th march to 15th may and then from 15th October to 15th December. The advance book permits in these months is still the same as those of the peak months.
Accessing the park
Since your trip starts from Rwanda, you will fly directly to Kigali international airport where our guide will be waiting to transport you to Congo. In case you are using public transport, your journey will take you about 2 hour's drive from Gisenyi to Virunga national park headquarters. You will connect to Gisenyi town from Kigali where you will cross a border connecting Rwanda and Congo to Goma. Goma is a town in Democratic Republic of Congo, from Goma, you will connect to Bukima and then drive directly to the park headquarters of Virunga national park from where your trip begins.
When to go trekking in Virunga national park
Virunga national park is in the tropics and therefore, you should expect rainfall anytime of the year. However, there are good months of the year where the park receives less amount of rainfall in the dry months of the year of January, February, June, July, and August. These months of the year are when slopes are drier and the vegetation is not dense which makes it easy to see the gorillas and spot them.
The other months which are wet are also good enough for those with budget safari desires since the permits and accommodation in DRC are on a discount for trekkers. This gives a chance to budget travelers to have a chance to trek in the African amazon of DRC.
Where to stay in DRC
There are plenty of accommodation facilities in Virunga that range from budget to luxury accommodation facilities. We can provide you more information about the accommodation according to our expertise, we are sure that we will give you the best advice here. Budget options include; Bukima tented camp, Kibumba tented camp, mid-range accommodation; Tchegera island camp and Lulimbi tented camp, luxury options; Mikeno lodge.
What to expect in DRC on a mountain gorilla trekking safari
Mountain gorilla trekking
This is the most famous activity in the Virunga national park with about 6 gorilla families open for gorilla trekking. These include Bageni gorilla group, Nyakamwe gorilla group, Munyaga gorilla group, Lulengo gorilla group, Mapuwa gorilla group, Rugendo gorilla group, Humba gorilla group and Kabirizi gorilla group. Amongst all these groups, Kabirizi is the most famous for gorilla trekking because it is the largest group of all the gorillas with over 3 dozens of gorilla individuals.
Nyirangongo volcano hike
This is one of the most bizarre life time adventures that all tourists can engage it for an unforgettable experience. This is one of the active volcanoes that still exist in the world with an elevation of 3470m which has erupted at least 34 times since 1882. Tourists can see the volcano on their gorilla trekking safari in DRC.
Chimpanzee tracking and habituation
These are the second most popular activities to do in Virunga national park. This gives you an hour of encounter with the chimps for tracking and while chimpanzee habituation gives you the whole day of encounter. You can sight these in the forest where tracking takes place. Also, you get to watch the different feeding and food gathering habits and their natural behaviors in their natural habitat. You will also need gorilla trekking permits for this activity in Congo. Fortunately, we can easily book them for you.
Bird watching
Being one of the most old and dense forests, there are a number of bird species that inhabit the forest, swamps, river and the grass lands. This gives you a vast place to watch and spot different birds making this bird expedition one wondrous activity to engage in while on your safari.
About 706 bird species are available in the forest. All you need is a guide, a pair of binoculars and book guide to enjoy you safari.
Nature walks in Virunga national park of Congo
This is one of the oldest national parks with a long river and different dense vegetation, unique tree species as well as a unique land scape. The park has different bird species which are available for watching in this dense forest. There are plenty of species to learn about with the help of well-informed guides, these natural walks can be fabulous.
Recommendation
Pamoja tours and travel company is the best at providing enjoyable and worthwhile tours and holidays to all its clients. With our hard working staff, we have secured a working relationship with different service providers to help us run our operations smoothly. Therefore, you will receive all services you require starting from booking permits, accommodation to the dot. All our safaris are life changing and affordable. Contact us for any inquiry or safari packages for the best trip starts with ample planning.