The Best time to do Gorilla Trekking depends on a number of factors, however it's very possible to track Gorillas anytime of the year.
Gorilla tracking is the activity that involves getting into the tropical rain-forests with trained ranger/ guides in search for the endangered mountain Gorillas in their nature habitats, to learn about their way of life and experience. This trip or activity is one of the best that you will ever have in a lifetime, with everlasting memories.
The mountain Gorillas live at high altitudes in tropical rain-forests where the weather highly determines the trekking. In order for tourists to enjoy their experience with the Gorillas and the trekking, there has to be a conducive environment with favorable weather to determine a memorable Gorilla Safari Experience. This means, the best time for gorilla trekking is during the dry seasons, with less rain which makes movements easy.
The Best time to do Gorilla Trekking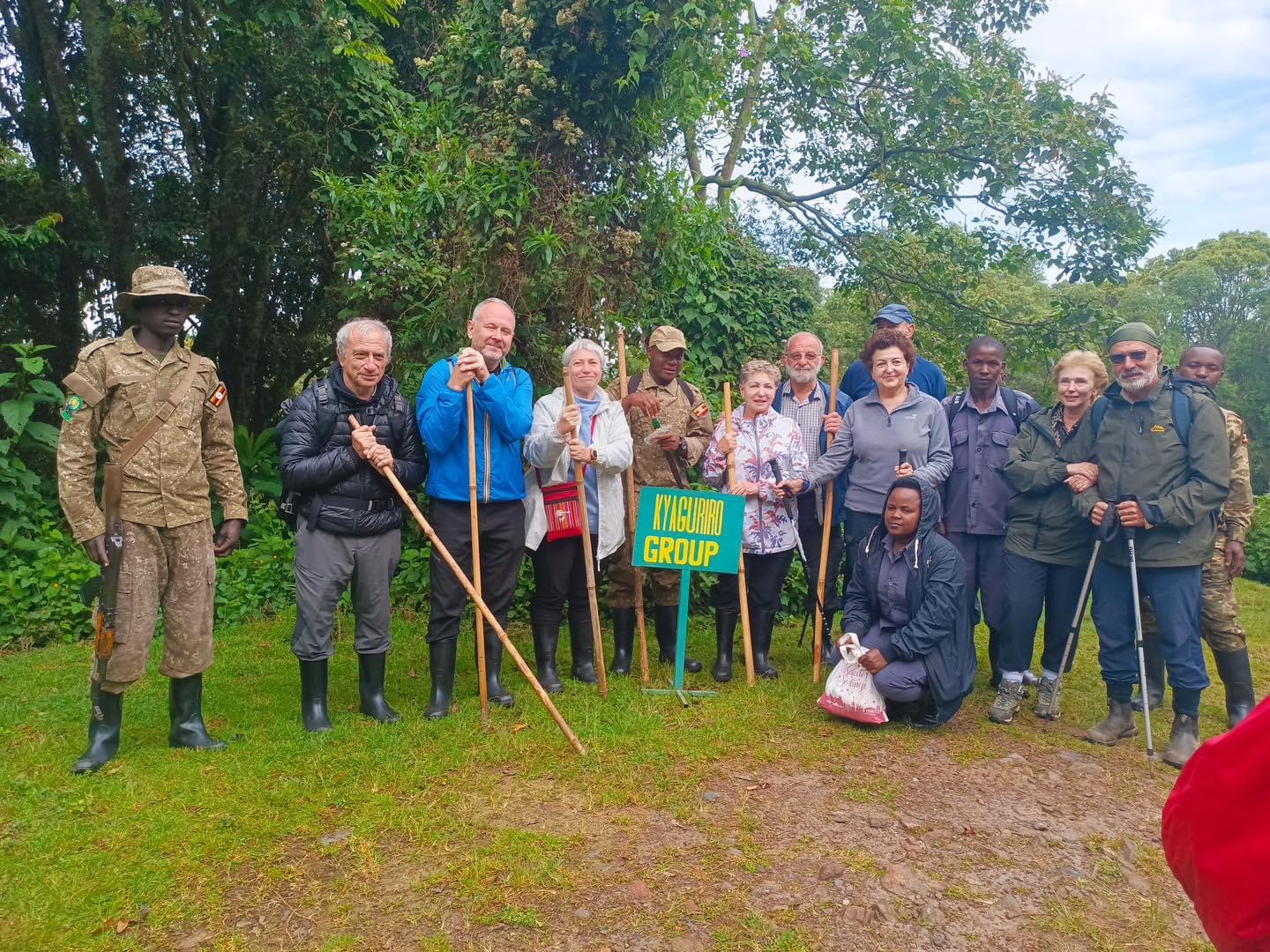 The best season or months for tracking Gorillas.
During the months of June, July, August and September, plus December to early February. These are the best months of the year to go for your Gorilla trekking safari due to the less rain pours, since they dry seasons.
This is also the best time to do other primate safaris like chimpanzee tracking in Kibale National Park, Golden Monkey tracking in Mgahinga Gorilla National Park and bird watching safaris. On top of this, you can also do games drives in most of the parks in Uganda since the game trails will be passable.
During these dry months, the routes are easy to pass through and also get clear views for photography and site seeing.
In June, there are very limited rain pours which makes it be among the best months and period to gorilla trekking. During this month, travellers come in big number which makes site lodges very busy and competitive. This is usaully the beginning of the peak seasons for most of Ugandan safaris.
In July, gorilla safaris tend to be at great performance since the gorillas are closely visible in the trekking trails. The fine weather plays a very big role in making sure you move properly while finding no hardships on ground. This is the best time for gorilla trekking, because you get to see the gorillas up-close into the tropical forest. You are also reminded to book for your Gorilla permit in advance in order to avoid any inconveniences.
August is also another fine month where tourists to Uganda or Rwanda can greatly appreciate the beauty of Gorilla safaris. This is when gorillas come close to the water sources to take some water, hence offering the best moments for photography.
The Best time to do Gorilla Trekking
September is also another month to see these gorillas as it marks the end of the dry season and visitors usually get a chance to book in September since the prices, relatively reduce during this month.
The rainy season usually begins in October, and some visitor prefer this time to get an extreme adventure with rain as they travel through the different parks for wildlife viewing. Wildlife viewing safaris that combine game viewing and gorilla safari will require you beginning with Gorilla trekking in Bwindi. This will give you a perfect time to avoid the heavy rains during your gorilla trekking experience.
January and February are also very favorable months to do your gorilla trekking safari in both Uganda and Rwanda. This is because these are also dry months where rainfalls is hardly present, which make gorilla trekking more rewarding. Visitors to Uganda and Rwanda can have a joint or combined safari to explore both countries in these months.
The Best time to do Gorilla Trekking
Best places to see Mountain Gorillas or do Gorilla trekking.
Bwindi Impenetrable National Park, is home to over 51% of the world's remaining mountain Gorillas. These Gorillas live in the dense forests of Bwindi with thick trees and impenetrable routes. However, with the help of ranger/ guides, you get to trek through the impenetrable forest to see these mountain Gorillas.
Here is a full gorilla trekking and habituation experience in Bwindi Impenetrable National Park
It is an amazing experience as you get closer to see these endangered species that most of people only see in Movies like Planet of the Apes, Tarzan, Baby's Day Out, George of the Jungle, Mighty Joe Young, Congo, Gorillas in the Mist, Rampage, King Kong, Kong Skull Island among many others. Some of you read stories about them and others study about them in class.
But all this will become a reality when you decide to take a trip to Africa to see the remaining mountain gorilla population, in Bwindi Impenetrable National Park in Uganda, or Rwanda plus Congo. This will answer all your questions as you get to do the gorilla trekking which gives you one magical hours in the presence of the Gorillas. You can also decide to do a more rewarding gorilla experience called Gorilla Habituation.
The Gorilla habituation experience also means that a maximum of 4 tourists get to spend more time with a gorillas family for a total of 4 hours. There will be a team of rangers and researchers performing their daily tasks of grooming the gorilla family. All tourists visiting Bwindi for this Gorilla Habituation Experience will need a gorilla habituation permit, booked and in advance.
The Best time to do Gorilla Trekking
Gorilla tracking sectors.
There are four gorilla tracking sector in Bwindi Impenetrable National Park and these Include; Nkuringo sector, Rushaga sector, Ruhija sector and Buhoma sector.
Buhoma sector is in the Northern part of the park and home to six gorilla families which include: Mubare, Habinyanja, Katwe, Rushegura, Binyindo and Muyambi gorilla families.
Ruhija sector is in the Eastern part of the park with four gorilla families namely; Bitukura, Kyaguriro, Mukiza and Oruzogo gorilla families.
Rushaga sector is in the southern part of the park with over nine gorilla families that include: Busingye, Mishaya, Kahungye, Bweza, Mucunguzi, Bikingi, Nshonji, Kutu and Rwigi gorilla families.
Nkuringo sector is in the southern part of the park with over 4 gorilla families that include: Nkuringo, Bushaho, christmas as well as Posho gorilla families.
There's just one habituated family in Mgahinga and it' called Nyakagezi group, which is headed by the dominant silverback "Mark" and a second silverback "Ndugutse".
The Best Time to do Gorilla Trekking
When your planning on booking a gorilla permit for your gorilla safari, inquire from a tour operator for assistance because you will need their services in order to execute your gorilla safari.
The first step in booking a gorilla safari, begins with you identifying a tour operator/ gorilla trekking company. Then setting the date you wish to have your safari. Followed by your travel documents (Passport copy) in order to confirm the nationality and other detailed required in the booking process.
The booking process in concluded as you deposit money to secure the gorilla permit which is issued by the Uganda Wildlife Authority, which is in charge of managing and regulating all activities in all wildlife conservation areas in Uganda.
In Rwanda and Congo, you will need to under go the same procedure in order to secure a gorilla trekking permit.
People also ask about:
How many days do you need for gorilla trekking?
Is Uganda or Rwanda better for gorilla trekking?
What time does gorilla trekking start?
When is the Best Time to do Gorilla Trekking?
What is the weather like for gorilla trekking?
Which month is best for gorilla trekking in Rwanda?
How difficult is the gorilla trek in Uganda?
Is gorilla trekking worth the money?
Which country is safest for gorilla trekking?
How much is 1 day gorilla trekking in Rwanda?
How much is gorilla trekking fee?
Why is gorilla trekking so expensive?
How do I prepare for gorilla trekking in Uganda?
What shoes to wear for gorilla trekking in Uganda?
What fitness level do you need for gorilla trekking?
How safe is gorilla trekking?
What colors to wear for gorillas track in Uganda?
What do you wear to see gorillas?
How much are gorilla trekking permits in Uganda?
Where is the cheapest place for gorilla trekking?
When should I go to Uganda gorilla trekking?
How do I book Gorilla trekking?
What to pack for gorilla trekking in Uganda?
How long does gorilla trekking take in Uganda?
How many gorilla permits per day in Uganda?
What is the difference between gorilla trekking and habituation?
How much is gorilla trekking in Bwindi?
How difficult is the trek to see the gorillas in Rwanda?