Overview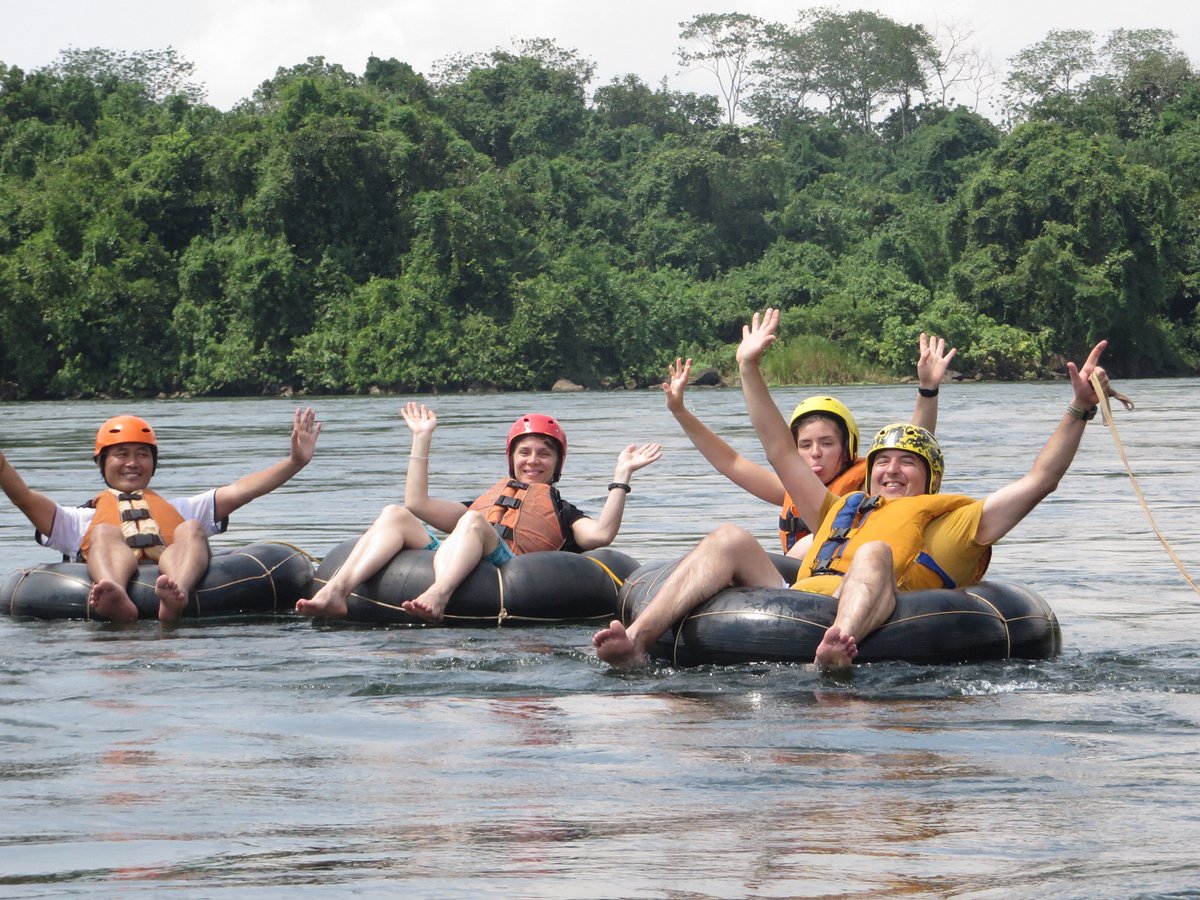 Tubing on the Nile: There are several types of tubing and they include; flat water tubing, white water tubing and extreme tubing. During your visit to Jinja, you and or your loved ones can opt for any of these three depending on your tastes and preferences. Regardless of the one you eventually choose, you will not regretting taking part in this exciting activity.
Flat water tubing
Flat water tubing/lazy river tubing on the River Nile in Jinja is such a wonderful experience. On a hot day, there's nothing better than a refreshing flat water float with your loved ones accompanied with some cold delicious drinks.
This trip is suitable for those looking for a relaxing experience or groups with younger children. Expect to enjoy watching the various bird species, sunbathing and beautiful sceneries along the river.
We can run extra sessions at a time to suit you. If you can't easily find the date you're after please contact us and we will be happy to help.
White water tubing
This is one of the most popular activities for those looking for a thrilling and unforgettable experience. You will get a chance to experience the thrills of white water rapids. These rapids are categorized in classes I, II, and III. Besides the refreshing white water, you will also enjoy the stunning views that come along with it.
During your tubing experience, you may stop by an island for a snack and the continue with the fun, concluding your session with a drink.
At Pamoja Tours and Travel, we offer customized safari packages to suit your needs and experience level.
Some of the safari packages that we offer in Uganda include the following;
Extreme tubing on the Nile
For those who are interested in the ultimate thrill-seeking adventure, the Extreme Tubing on the Nile will take you through some of the most exciting rapids in the world. The rapids of the White Nile will test your strength and provide a challenge only for the fittest. You will definitely get your adrenaline pumping with this incredible activity.
General information about tubing
Extreme Tubing kicks off with a safety briefing which gives participants a chance to practice and build confidence in small portions of the course before taking on any of the more challenging sections. This makes it suitable for complete beginners (they do not need to have any experience).
Extreme tubing sessions can be tailored to the individual, group, and corporate needs. They are also great for team building events or celebratory events such as birthdays for children and adults.
Facilities provided in the tubing package include;
A professional guide, transport to and from the river, safety briefing, washrooms on-site, photography, drinks and snacks.
Conclusion
If you include tubing in your Jinja experience, you cannot go wrong. It is an amazing way of relaxing in the refreshing water while enjoying the company of your loved ones and the beautiful surroundings.
Contact Pamoja Tours and Travel for the best adventure package in Jinja. We also offer safari packages in Uganda, Kenya, Tanzania, Rwanda and Democratic Republic of Congo.