Midrange Accommodation near Mountain Rwenzori National Park
Overview
For those who prefer midrange accommodation, Mountain Rwenzori National park provides various mid range accommodation options.
Ihamba lakeside safari lodge
To begin with, Ihamba lakeside safari lodge is located in Muhokya sub-county close to Kahendero fishing village and offers a fantastic view of the Rwenzori Mountains.
Furthermore, facilities are presented in 6 private cottages with a beautiful African touch and the blend of the jungle overlooking green vegetation zones.
Additionally, there are double rooms, twin rooms, en-suite facilities, indoor shower and bathrooms with large glass windows.
Also, there are various amenities, for instance; swimming pool, housekeeping, laundry, firefighting equipment, standby generator, secure parking and main lounge.
Rwenzori International Hotel
This hotel is located near Kasese (only 3 minutes away from the Kasese airstrip).
In addition, it has a total of 35 room facilities (breakfast included)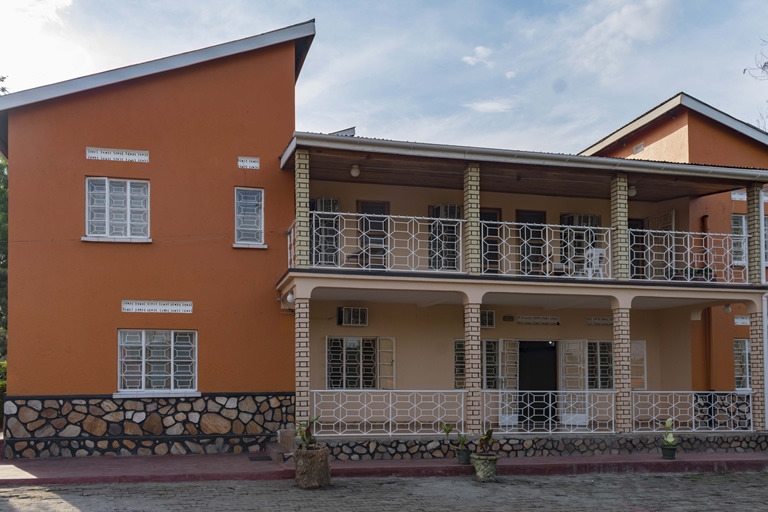 Facilities/ amenities; Television, well-furnished rooms, telephone, beddings, treated mosquito nets, well-equipped kitchen, restaurant, large beautiful gardens, lounge, electricity, bar, hot water bathing facilities.
Sandton Hotel Kasese
Sandton Hotel is a home away from home located in the heart of Kasese business town along Rwenzori Street opposite Stanbic Bank. From Entebbe via Fort Portal, its 393 km a 4 hrs.
Alternatively, you can drive via Mbarara is 427 km a 6hrs drive. From Kasese to Queen Elizabeth National Park its 25 km and 30 minutes' drive and just 7km away from Kilembe Mines Trails.
Taking full advantage of its spectacular surrounding of calmness, Sandton hotel offers luxurious accommodation. Also, it has 24 twin executive rooms and 31 Double Deluxe Rooms.
Every room includes a private bathroom and some rooms at Sandton Hotel Kasese have a terrace.
Additionally, each accommodation offers complete privacy and safety. The guest accommodation units are all beautifully decorated with care, equipped for your pleasure with a full range of amenities. For instance; Air Conditioned Rooms, 24 hours Satellite TV, free Wi-Fi and complimentary bottled water. We also offer car-hire services and airport pick-up on request.
Accommodation; spacious rooms, private bathroom, bath robs
There are amazing facilities available, for instance; Free WI-FI, sitting area, flat screen television, spa tubs, barbecues, terrace, private parking.