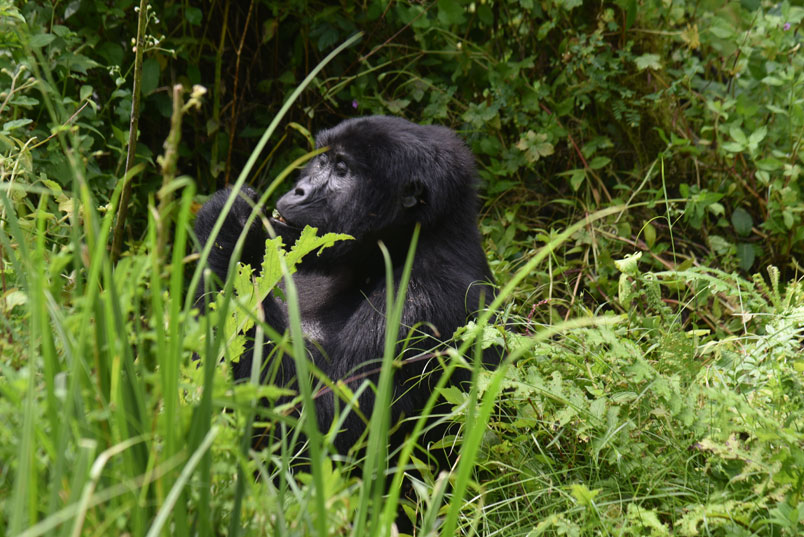 Road Trips from Kigali to Bwindi Impenetrable National Park: One of the most amazing safaris prepared by Pamoja tours and Travel Company to Bwindi is through a road trip where you drive across two different countries watching the beautiful sceneries and landscapes of Uganda and Rwanda.
Summary of the journey
For the case of road trips, start by organizing yourself and planning for your trip. Once you land in Kigali, our professional drivers will be waiting in the car. Your trip will immediately start as you leave Kigali city through Cyanika or Katuna border to Uganda. We will visit different memorial places in Rwanda like the Genocide memorial, Muhoro stadium where you will proceed to Uganda and stop in Kabale for lunch.
In Uganda, you will pass by Lake Bunyonyi, view different Mgahinga mountain ranges like MT Muhavura, MT Gahinga and MT Sabinyo. You will then drive through the beautiful country side of Kisoro and Kabale giving you one of the best road trips to Mubwindi national park.
About Bwindi impenetrable national park.
Bwindi national park is located in the Southern part of Uganda on the border of Congo. This is one of the famous parks which is mainly visited because of its gorilla trekking activities. There are just two parks in Uganda with mountain gorilla species. We should take note that Uganda has half of the mountain gorillas which are remaining in the world.
The sectors
Bwindi Impenetrable National Park is divided into four sectors; Nkuringo, Buhoma, Ruhija and Rushaga sectors. Each sector is unique in its own way with different gorilla families available for trekking. Besides trekking, there are quite a number of activities that can be included on your road trip to Bwindi national park. These are included in this article showing you how best you can enjoy Bwindi starting from Kigali on a road trip.
Road conditions from Rwanda to Bwindi Impenetrable park.
Uganda as a country in the South west is hilly just like Rwanda. Therefore, this implies that you will be travelling on the hilly and curving roads. However, they will give you the best views of the country side. The roads from Rwanda to Bwindi are smooth and easy going giving you a 4-5 hours' drive of no worry. In addition, the highways of Kisoro, Kabale and Ntungamo are tarmacked until you reach the routes to the park. Also, there are marram roads leading you to the sectors. There is no need to worry, our professional staff will ensure your comfort and safety.
Vehicles used during the road trip from Rwanda to Bwindi national park.
4×4 safari vehicles are the best for this safari. On top of being in a good condition, they are under the care and supervision of our authentic and professional guides from Kigali to Bwindi national park. These vehicles have enough space for your own comfort, charging ports and luggage space. For instance, the 4×4 customized van for budget safari clients and 4×4 land cruisers for mid-range and luxury services. You can have a budget safari and opt for a land cruiser therefore this shouldn't worry you.
These 4×4 customized land cruisers carry up to seven people therefore; they are fit for group or family trips. All the vehicles have been serviced therefore, you shouldn't worry about your safety as you make your way to Bwindi through Rwanda.
From Kigali to Bwindi
Kigali international airport being the major airport in Rwanda, this is where our road trip starts from. It is very close to Bwindi impenetrable national park just 4-5 hour's drive when you access Bwindi through Katuna or Cyanika boarder. There is no need to worry about custom clearance since it takes less than an hour for travelers.
What to do and see in Bwindi impenetrable national park.
Gorilla trekking
Bwindi and Mgahinga national park are the only parks in which gorillas live in their natural habitat in Uganda. Bwindi national park is famous for its gorilla trekking activities. Note that the park consists of four sectors; Buhoma, Ruhija, Rushaga and Nkuringo. Also, this is where half of the world's endangered gorilla species live in their natural habitat.
For any tourist to take part of these famous trekking activity, they must present a valid gorilla trekking permit which allows them to trek the gorillas. The visitors in the park get only one hour to be with the gorillas the moment they spot them. Furthermore, this only allows 8 people to trek a given gorilla family at a time. The permit allows you 1 hour of watching these magnificent beasts as they continue to live their day to day lives.
Gorilla habituation experience
Gorilla habituation, as compared to gorilla experience, has its own benefits like spending a lot of hours with the gorillas. This is when Habituated gorillas are exposed to people so that they used to them. The experience gives you a chance to enjoy a 4 hours company with the habituated gorillas.
In line with the foregoing, gorilla habituation occurs in Rushaga and Buhoma sectors of Bwindi impenetrable national park. With the help of guides, researchers, and a ranger, you will monitor the habituated groups as they continue to live and do their normal daily activities like feeding, communication and resting.
Additionally, the experience only allows four people per gorilla family and takes 4 hours. On the other hand, gorilla trekking allows 8 people for just one hour with the gorillas. You still need to book a gorilla trekking permit through Pamoja tours and travel and just get ready to spend quality time with these magnificent creatures.
Bird watching
For bird lovers, bird watching in Bwindi national park is such an activity that has attracted a number of people in to birding. Bwindi national park has a total number of 323 birds in the park that are available for birding. There are different bird species that are unique and some of which you can only trace in the Albertine region. For instance;
black-fly catcher
African olive-pigeon
buff-spotted wood pecker
Pettit's cuckoo-shrike
Cassin's flycatcher
Ruwenzori batis
Ansorge's greenbuls
snowy-crowned robin chat
 African paradise fly catcher
cape wagtail, mountain wagtail
On your birding trip, you will receive guidance and different tips on bird watching in Uganda.
Natural forest walks
There are forest walks that are organized by Pamoja tours and travel company through different available trails in Bwindi forest; the Kashasha river trail and the Ivy river trail which give you a chance to explore more of the forest beauty of the green rush and fresh water rivers as you walk through the forest. Bwindi is the best park where nature walks can take place within the thick natural forest.
Furthermore, it has different beautiful species like primates; baboons, gorillas, monkeys like the blue and the golden monkeys. There are plenty of other species like the birds which are available for birding, wild animals and mammals like African elephants. The forest walks will help you take nature into your own hands as you will be able to spot birds, animals, primates and this will be at your own pace.
Cultural experience and community encounters
Bwindi forest was once a home of the indigenous Batwa people who forcefully left when the park was undergoing gazetting. The experience gives you a chance to experience the local cultures of the Batwa and the Bakiga people who live on the out skirts of the forest.
Your trip to these small communities will enable you to interact with them freely, listen to their stories of the life they lived before they got pushed out of the forest, learn different ways of how they live like collecting wild honey, making art and craft from trees, making music out of wooden instruments, making fire using hands. Get entertainment later when you hear the Batwa and Bakiga traditional songs and dance. These have a unique way of entertainment through dance and music.
Other activities
For those who want to take part in all the local community charity and organizations, there are plenty of schools, hospitals where you can give some grants and this will be highly valuable. These schools support the young generation of children in the local community. Also, engage in local making of crafts, making food and selling different kinds of food stuff at your will.
Accommodation facilities in Bwindi
Bwindi national park at large is big that is why it consists of sectors. It has got 4 sectors which means that there are different accommodation facilities in each sector. There are Lodges like;
Four gorilla lodge
Nkuringo Bwindi gorilla lodge
Clouds mountain gorilla lodge
Rushaga gorilla havens lodge of Rushaga
Buhoma lodge, Rushaga gorilla camp
Mahogany springs lodge
Bwindi lodge
Gorilla forest camp
Trekker's tavern lodge,
Bakiga lodge
Lake Bunyonyi lodges in Kabale.
However, the prices of accommodation facilities tend to rise in the months of June, July, August and September. It is during this time that a number of tourists flock East Africa because of the dry season. The prices for these lodges tend to vary depending on the Season, Likes and preferences. That is to say; in case of drier seasons of the year, hotels are booked to their full capacity and the prices are high yet in the wet season, a few tourists are visiting East Africa therefore, hotels are not so busy and the price are low.