1.Flycatcher Katavi Camp
Flycather Katavi Camp is a mid-range accommodation in Katavi national Park Situated in the central Ikuu area of the park and overlooking the Katuma River, the seasonal Flycatcher Katavi Camp is the right place for a true wilderness experience.
All tents, including the big dinning tent with open sides, provide wonderful views over Katuma River. The tranquil atmosphere in the camp and the animal sounds at night will top your stay in this pristine wilderness.
The Camp
In Flycatcher Katavi Camp you will be staying in a spacious tent. The tents are equipped with comfortable beds with Nordic bedding, canvas cupboards, luggage racks, safari chairs and electric lights generated from solar panels. Each tent consists of an en suite bathroom with a flush toilet and a bucket shower where hot water will be provided daily. Screened windows on all sides of the tent allow you to encounter nature at its closest. All six tents are in the shade of trees and also have superb views over the Katuma River.
You can enjoy watching animals coming for water from the privacy of your veranda. The dining tent with open sides provides a perfect location for all meals, offering a splendid view across the river banks of the Katuma River. Our experienced cooks serve excellent meals with a good variety of fresh food products. After an adventurous day you can relax and also enjoy a drink at the campfire.
2.Katavi Thousand Star Mivunda Area
It is a pocket friendly accommodation located along Lake Katavi National Park.
The camp has 6 en suite tents, each fitted with a mosquito net, cloth rack, and verandah with chairs. Laundry services are available on request. There is an onsite bar and restaurant.
3.Neema Executive Lodge, Madukani Area
It is located in Madukani area, Mpanda region close to Katavi National Park.
There are self-contained rooms, each en suite and fitted with satellite TV, work desk, telephone, terrace tea/coffee making facilities. There is an onsite restaurant and also a bar.
Laundry services are also available upon request.
4. Katuma Bush Lodge
In the centre of Katavi National Park lies the charming Katuma Bush Lodge that offers a riveting bush experience with breathtaking views over the vast plains of Katisunga. This lodge blends in with its surroundings to avoid distraction from the beauty of Katavi.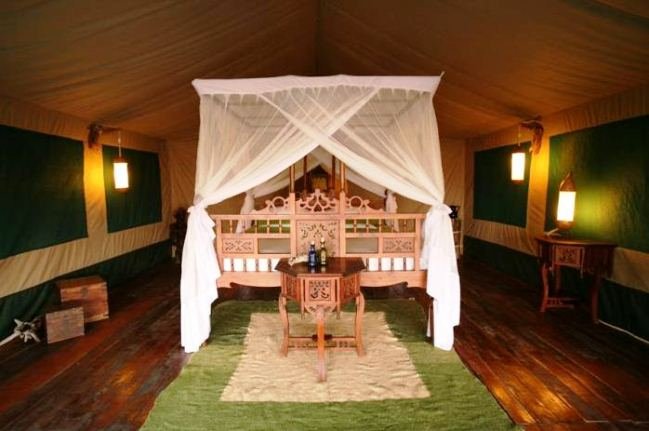 We have a total of 12 tented rooms; all the tents have under thatch roofs on raised wooden decks with hardwood floors. Each tent has its own en-suite bathroom with shower, basin on a wooden fitted cupboard, flushing toilet and hot and cold running water throughout the day.
The bedrooms have four-poster beds under enclosed mosquito nets and bottled water and drinking glasses. There is a power point for charging of electrical equipment, and each tent has its own private patio with chairs and also a coffee table.
At the lodge there is a combined lounge and dining area constructed from hardwood under a thatch roof. We also have a swimming pool and a public ablution block with wash basin. There is also a lovely sundeck with campfire; it is a great place to have a sun downer while watching the sun set over the plains below.